Peace and Freedom
It's not just the Spratlys, China is constructing military facilities on the Paracel Islands too.
By Victor Robert Lee
The Diplomat
As Vietnam's Communist Party Chief Nguyen Phu Trong met with China's President Xi Jinping in Beijing last week, China's government news service Xinhua extolled a "deep-rooted partnership" between the two nations. But 400 kilometers off Vietnam's coast, in the Paracel Islands, China was rapidly consolidating its hold on islands that both countries vehemently claim as their own.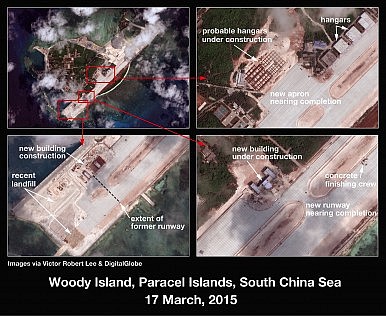 High-resolution satellite images from March 17 show that Woody Island, occupied by China since 1956, is undergoing a major expansion of its runway and airport facilities. Within the past five months, a 2,400-meter airstrip has been completely replaced with a new concrete runway measuring 2,920 meters in length, accompanied by a new taxiway, expanded runway aprons and adjacent large buildings under construction. Additional land reclamation is also underway on Woody Island, called…
View original post 1,123 more words