Peace and Freedom
.
Houthi fighters (AP Photo/Hani Mohammed, File)
Reuters
DUBAI — A ceasefire has been agreed after a morning of artillery and gunbattles between army troops and Houthi fighters in the Yemeni capital Sanaa on Monday, an official of the Shi'ite Muslim movement said. State television also reported a ceasefire.
President Abd-Rabbu Mansour Hadi would meet a number of his advisers including Houthi officials to discuss political and constitutional issues, the Houthi official, Ali al-Imad, told Reuters.
(Reporting by Mohammed Ghobari and Yara Bayoumy, Writing by William Maclean; Editing by Janet Lawrence)
Related:
Houthi rebels battle Yemen's soldiers near presidential palace
Gunmen kidnap Yemeni president's chief of staff
Houthis abduct Yemeni official amid wrangling over constitution
Against Radical Islamist Terrorism, U.S. Intervention Isn't Working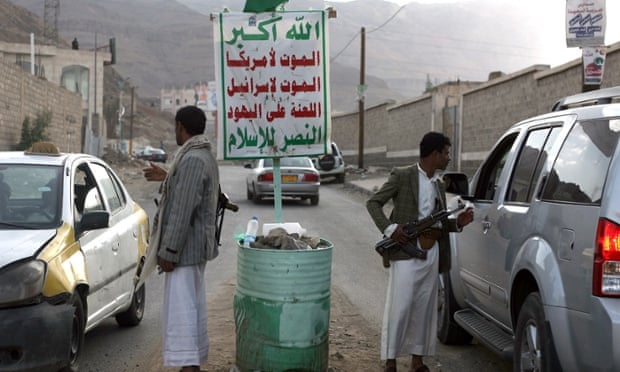 Houthi militia stop cars at a checkpoint in Sana'a. They are believed to be fighting government troops near the presidential palace. Photograph: AbdulrahmanHwais/EPA